"THE ULTIMATE STEEL SHOOTER"
Podcast Show
I've started a podcast show dedicated to Steel Challenge shooting!
The show is a combination of training technique discussions, current topics affecting the sport, guest interviews and even some product reviews; but most importantly, I answer questions sent to me about becoming a better Steel Challenge shooter. So if you have any questions you'd like me to discuss on the podcast please e-mail them to me at: SteelShootBanners@outlook.com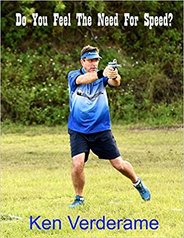 NOW AVAILABLE AT AMAZON BOOKS
The First Ever Training Manual
Dedicated 100% to Steel Challenge
"DO YOU FEEL THE NEED FOR SPEED?"

This book is the first training manual dedicated 100% to becoming a better Steel Challenge shooter.. Whether you shoot centerfire, rimfire or PCC, the insights & training methods outlined will help put you miles ahead of your competition.


Front Sight Magazine Articles
Hopefully everyone enjoyed my 2016 5-part series on becoming a better Steel Challenge shooter. As some of you may know, I'm now writing a regular series on Steel Challenge shooting for the magazine. The first piece appeared in the Apr/May 2017 issue and discussed 'the draw'. I plan to alternate between technique and strategy discussions throughout the year so send me an e-mail if there is a specific topic you'd like me to address and I'll do my best to get it into the rotation.




---
CHECK OUT THESE BOOKS BY ONE OF MY FAVORITE AUTHORS!
This book is a collection of expressions (and the explanations of what they actually mean) that are often heard in government organizations and aerospace companies involved in building military weapon systems.. The author's take on what these platitudes actually mean is funny, irreverent and sarcastic.. Even if you've never been involved in this business you'll find the collection humorous and entertaining.. If you've ever wondered what phrases like: "don't try and blow smoke up their skirt" or "If you can't take a joke you shouldn't have joined" really mean then this book is for you..







---

As the title of this books says, this book is a collection of the secrets that the pros have been using for years to beat the casinos. It's long past time for a book that provides a simple, straightforward approach to the game of Blackjack. Based on a combination of computer analysis of many different already published systems along with the practical knowledge gained from over 20 years of casino play, the author presents his no-nonsense approach to playing & winning. You won't find any long, boring descriptions of probabilities and statistics or mathematical formulas, just easy-to-understand explanations for how to go about winning at casino blackjack. If you're ready to start winning then this is the book for you!


---